Irish mixologist reveals four delicious Irish cocktails you can make on St. Patrick's Day.
With St Patrick's Day just around the corner, many of us are worried that we can't celebrate in the traditional fashion as COVID restrictions remain in place. However, The Irish Cocktail Guy has shared four incredible Irish cocktail recipes to make at home for the occasion.
The Irish are well-known all over the world for their alcohol. From Irish whiskey to pints of Guinness, a famous Irish drink is sure to come to mind when you think of the Emerald Isle.
Using ingredients that you can easily source in your local supermarket, here are four incredible Irish cocktails to make at home this St Patrick's Day.
1. Blackberry Martini – using the perfect spring berry
Muff Gin from Inishowen in Donegal with its mandarin, rosemary, and elderflower botanicals is a refreshing complex sipper that goes down a treat in light fruity cocktails.
This martini has similar ingredients to the smash above and is a sure-fire way to show off your cocktail skills to your friends on your socials while spending St Patrick's Day at home.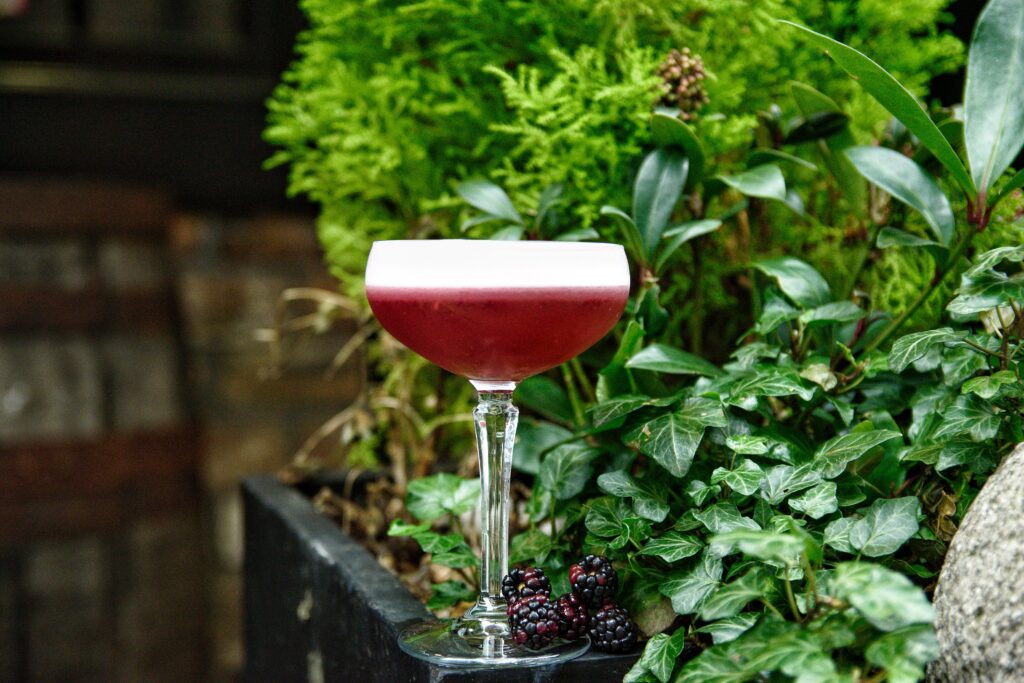 Glass: Martini/Coupe
Ingredients:
50 ml Muff Irish Gin
25 ml Lemon Juice
15 ml Sugar Syrup
6 Blackberries
1 Egg White
Cubed Ice
Method:
Chill glass with ice.
In your shaker, add lemon juice, sugar syrup, and blackberries.
Muddle to release blackberry juices.
Add Muff Gin and egg white.
Shake without ice for 30 seconds (it's crucial to dry shake when using egg white to allow it to sufficiently foam and give that professional looking cocktail head when serving).
Add cubed ice to the shaker and shake until chilled.
Double strain into a coupe glass.
Leave drink until it has settled.
Garnish:
Serve with no garnish, or to raise your game, add three blackberries to a skewer and place across the glass.
2. The Irish Coffee – a traditional favourite
No drink is as synonymous with Irish whiskey as Irish Coffee!
Created by a Chef in Foynes airport in the 1940s, planes travelling from Europe to North America couldn't quite make the Transatlantic trip without stopping to refuel off the West Coast of Ireland.
The legend goes that on a cold and stormy night, the planes couldn't take off, forcing passengers to shelter in the airport restaurant.
With the need to warm up so many passengers, the chef began dishing out coffees with whiskey, brown sugar, and cream to everyone. Amazed, they asked, "Is this a Brazillian Coffee?" to which he replied, "Of course not, it's an Irish Coffee!" and a legend was born.
Now, what better way to finish a St Patrick's Day like no other than with this legendary drink. To show you how simple it is, I enlisted the help of my Columbian friend Flex With Drez to show him how to make two tasty variations!
In an ode to those passengers thinking it was Brazilian Coffee, I have used Conatum Coffee, which is a truly global coffee using a mix of roasted beans from Brazil, Columbia, Ethiopia, and Honduras. Head to Conatum Brand on Instagram to get a hold of a bag of your own.
Check out the video below to see how easy it is to make at home and a simple yet effective way to get the perfect creamy head!
3. Honeycomb and Caramel Irish Coffee – a twist on the classic
Heading to the Liberties Distillery in Dublin, this time to their Whiskey Liqueurs.
Dubliner has created a spirit like no other in their Dubliner Whisky and Honeycomb Liqueur. I don't believe I can do it justice in describing how good it is.
Instead, I'll just advise you to grab a bottle quickly to experience a taste sensation. This variation of the Irish Coffee is a must-try if you have a sweet tooth. It's definitely one of the most delicious Irish cocktails!
Glass: Irish Coffee Glass
Ingredients:
25 ml Dubliner Whiskey and Honeycomb Liqueur
25 ml Double Cream
15 ml Caramel Syrup
Conatum Coffee
1 Barspoon (tsp) Brown Sugar
Method:
Prepare a cup of piping hot coffee (instant, pods, cafetiere, or machines is fine).
Pour coffee into a glass and add brown sugar.
Add Dubliner Whiskey and Honeycomb Liqueur.
Stir until sugar is dissolved
Then in a protein shaker, add cream and caramel syrup.
Shake 5-10 times as it is really effective!
Place a spoon facing upwards to the edge of the coffee and slowly pour cream over.
Garnish:
Garnish with two squares of Dairy Milk Honeycomb Crisp
4. Bananarama – you'll keep coming back for more
The thing about the Bananarama is once you have one, you'll want to have another two, maybe four…
Made with Dubliner Honeycomb & Whiskey Liqueur, which is one of if not the best-balanced liqueur I have ever tried. The team at The Liberties distillery have truly outdone themselves.
Perfect for those with a sweet tooth.
Ingredients:
25 ml Dubliner Honeycomb & Whiskey Liqueur
25 ml Baileys
25 ml Banana and Butterscotch Liquer
25 ml Milk
25 ml Double Cream
10 ml Chocolate Syrup
Crunchie
Glass: Coupe/Martini
Method:
Chill glass
Add all ingredients except Crunchie into a shaker
Add cubed ice and shake for 30 secs
Strain into glass
Leave to settle
Garnish:
Garnish with a broken Crunchie
Other tools you can use – you don't need a full cocktail kit
If you don't have a cocktail kit at home, don't worry. There are a few things you can use instead:
Instead of a cocktail shaker, you can use a large glass jar or a protein shaker.
For a barspoon, use a teaspoon.
If you don't have a measuring jigger, a bottle cap or egg cup will do. Just make sure to maintain the approximate ratios.
For a muddler, use a wooden spoon
Instead of a cocktail strainer, you can use the protein shaker or the lid of a glass jar to control the flow of the drink and stop any ice from falling out.
If you don't have crushed ice and can only get your hands on cubed ice, you can use the side of a hammer to crush ice in the bag or pour it into a wine cooler and use the flat end of a rolling pin.
Follow The Irish Cocktail Guy – for more delicious recipes
Like many Irish people, The Irish Cocktail Guy started his bartending journey picking up glasses and pulling pints in the family pub. He continued to work in the hospitality industry and learnt the cocktail trade in a bourbon bar in Columbia, South Carolina, while on a J1.
After university, he worked as an engineer in a premium spirits distiller and was even involved in two major new distillery builds, one Scottish Gin and the other Single Malt Whisky.
Having experienced making premium cocktails for high-end customers and working within the industry, he decided to start his Instagram page, The Irish Cocktail Guy, to educate alcohol fans on the distilling process and share delicious cocktail recipes.
He aims to create Irish cocktails using ingredients that can be picked up in the usual high street supermarkets or online.
In his own words, "Cocktails should be for everyone. There never will be any pretentious cocktail ingredients in my recipes.
"Some of the recipes out there require the maker to climb two hills and swim an ocean to get to an island to pick up some berries, which you'll need to roast under a full moon to get the perfect syrup. That won't happen on The Irish Cocktail Guy".
You can follow The Irish Cocktail Guy for more delicious Irish cocktail recipes on Instagram: @theirishcocktailguy
For cocktail recipe videos, you can subscribe to his YouTube channel.
Sláinte!