A Temple Bar Pub has claimed that their notorious €18 Pint of Guinness is the 'best in town' and well worth the price – it's also the most expensive pint in Europe.
Joey Flynn, manager of the Auld Oscar Wilde pub in Dublin's Temple Bar area was adamant today in defending his pub's pricing policy.
Flynn made his comments after a group of American tourists complained at being charged €18 for a pint of Guinness.
"We simply charge what the market will bear," he told reporters.
"Anyway, we want tourists to appreciate the authentic Irish experience of paying twice or three times what something is worth. It sort of reminds us of the good old Celtic Tiger days."
Meanwhile in Ireland News sent a team of investigative reporters to the Oscar Wilde last Saturday and can now report as follows.
Oldest Pub on Essex Street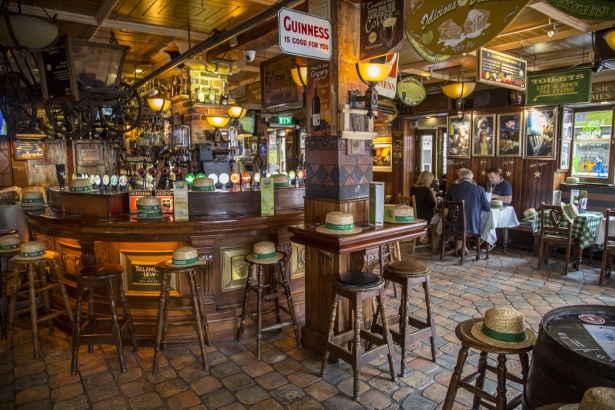 While the Auld Oscar Wilde was only opened during 2007 it can justifiably claim to be the oldest pub on Essex Street which plays The Dubliners' song 'The Rare Ould Times' on a continuous audio loop.
In addition to the above as Joey Flynn points out while The Dubliners never actually played or even drank there they could have.
'Best Pint of Guinness in Dublin'
Flynn told our reporters. "Ok so we probably don't clean or service the drink-lines quite as often as we should and the glass-washer hasn't been working properly for a few years.
But in all fairness the Yank tourists and the Brits on stag nights really can't tell the difference — to them if it's black and has a head on it, it's grand."
The Auld Oscar Wilde is not a typical local Dublin pub — in fact, you'd be hard pushed to find a typical Dub within five miles of it but they do make the effort.
Joey Flynn told us, "every year we hold interviews for bar staff in both Latvia and Poland. We try to find typically Irish looking girls and we give them a pamphlet with four or five Irish phrases to read on the flight over.
You'd be surprised at how quickly they learn 'go raibh maith agat,' and 'céad míle fáilte' and of course 'that will be €18 please."
'Very Proud'
Flynn is very proud of the extensive bar-food menu on offer. "We go all out," he told us.
"You'd be spoilt for choice between traditional bacon and cabbage served with Mrs Wilde's soda bread. Or of course, you might go for the cabbage and bacon option or even the soda bread sandwich of either bacon or cabbage at only €15 per person. It really is up to the customer." He added.
Our Verdict
In the interest of open, honest and fair reporting and using the highest journalistic standards, we spend over five hours in the Auld Oscar Wilde sampling the Guinness.
Yes, €18 for a pint might be considered a bit high for those not using the Meanwhile in Ireland corporate credit card. But after the fourth pint, the Guinness did begin to taste reasonable and once you learn a bit of Latvian the bar staff are exceptionally friendly.
All eight members of our investigative team wholly enjoyed this discover Temple Bar experience.
Meanwhile in Ireland News would like to thank: manager Joey Flynn, barmaids, Helga, Aija, Dagnija and of course Dymek the Bodhran player.